Purpose Driven Creative Entrepreneur
Grow Your Business in 4 Simple and Practical Steps
This Special Report will help you:
If you feel like your business is at a crossroads, and you're worried it won't get
better--in fact, you fear it will only get worse--download this Free Guide where we show you: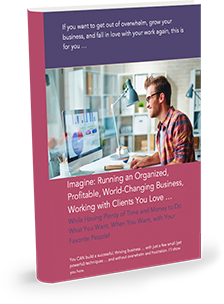 How to get out of overwhelm, grow your business, and fall in love with your work again...

The 4 Steps To Growing Your Business Without the Overwhelm, including a practical roadmap you can use to get started TODAY…

How to feel calm and confident as a business owner (in fact, by following this proven success path, you may find you make your business better than ever)...


---
Submit your name in the form to the right and you'll receive this Special Report ... PLUS some more surprises to help you quickly get started in your business.
More About Your Coach

Your Coach
Lisa J. MacDonald is a results business coach who works with purpose-driven creative entrepreneurs to gain clarity, confidence and achieve the results in their business.
After working for over nineteen years with hundreds of entrepreneurs, Lisa believes it is possible for you to revolutionize your impact through creativity and grit to tap into undiscovered possibilities.
Lisa is an award-winning author of thirty books, former radio show host, executive producer, and is an award-winning speaker. She has also been a popular guest on TV and radio shows and used to work with the Attorney General in Utah on the Dating Violence Task Force.
Lisa has two master's degrees, MFA in Creative Writing, and MA in English, and is a certified coach earning CPCC/ACC and Certified Growth Climate Relationship Specialist.
Outside of the passion for coaching and leading online courses, Lisa loves writing fiction and nonfiction books and is an avid reader of a wide range of genres.
"Lisa is fiercely committed to helping her clients live their best life. You can feel the incredible strength and love she gives move through you and lift you up."
Lisa J. Peck (MacDonald) is a class act. She has a sincere desire for all those she associates with to improve, grow, and accomplish the goals that will bring happiness to individual lives. Working with Lisa has provided me clarity about what is working in my life and what is not working in my life. She has helped me establish desired outcomes based on in-depth thought and discussion about what I want out of my life. She brings a sense of professionalism and aptitude that you will not find elsewhere. --
Want to explore whether we're meant to work with each other?
Book your 30 minute no obligation complimentary session.
Schedule an appointment